Sunday, October 26th, 2014
I'm a father of daughters and have had the privilege of training multiple female shooting champions, including both of those daughters who each won national titles while still in their teens.  I've also spoken in court for some forty female law enforcement officers who were fired for failure to qualify with handguns that weren't the right size for them (and which they sometimes weren't trained with correctly), when I was able to confirm that proper training and suitable police weapons that DID fit them allowed them to qualify just fine.  So, it pleases this old testosterone creature when the estrogen tribe kicks butt with guns.
At the NRA annual conference in Indianapolis this year, I got to meet Lena Miculek.  She's the daughter of two old friends: Jerry Miculek, whom I consider the greatest double action revolver shooter of our time and probably ever, and Kay Clark-Miculek, a national champion shooter in her own right and a kick-ass gunsmith who built the Clark Custom Ruger 10/22 I used to earn a Rifleman patch at my first Appleseed event.
Yeah, there may be a genetics component: if the sire and the dam are both Kentucky Derby winners, you can expect their filly to win races, too.  More to the point, though, both Jerry and Kay have shown themselves for decades to be exemplary as both human beings and shooting athletes, and they passed their dedication to excellence along to their daughter as well as all their knowledge.  She has been stomping mucho boo-tay in three-gun (rifle/shotgun/handgun) competition.  Her father is duly appreciative: see photo.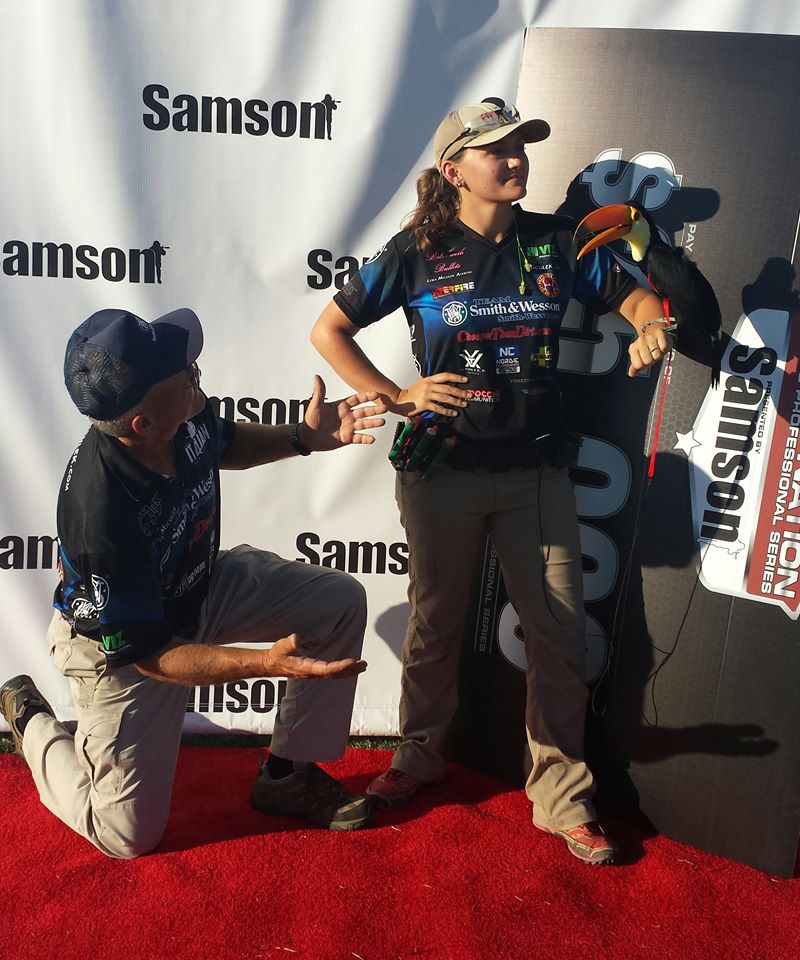 Closer to home for this writer, estrogen still ruled this week.  Last Saturday, we finished a MAG-40 class in Florida and as usual, staff shot a pace-setter demonstration of the qualification, and then it was the students' turn.  The instructors toss in $5 apiece, top staffer taking all…students pony up a buck each, winning student taking all…and anybody who beats me gets an autographed $5.  Tie scores on point value over the 60-shot qualification course are broken by group measurement: tightest shot cluster prevails.
Among the students were many instructors and some proven competition shooters, and the staff half a dozen state and regional shooting champions and at least four who have held national titles in handgun shooting competition.  When the proverbial gunsmoke had cleared, there were more than a couple of us who had perfect 300 out of 300 scores.  Mine lost on tie-breaker to that of Lt. Col. Dave "the Blaze" Blazek, USAF retired, who last month won the title of high military shooter at the IDPA National Championships in Tulsa.  Dave usually beats me anyway, but to add insult to injury, he did it this time shooting southpaw even though he's naturally right-handed…and I'm awfully proud of him.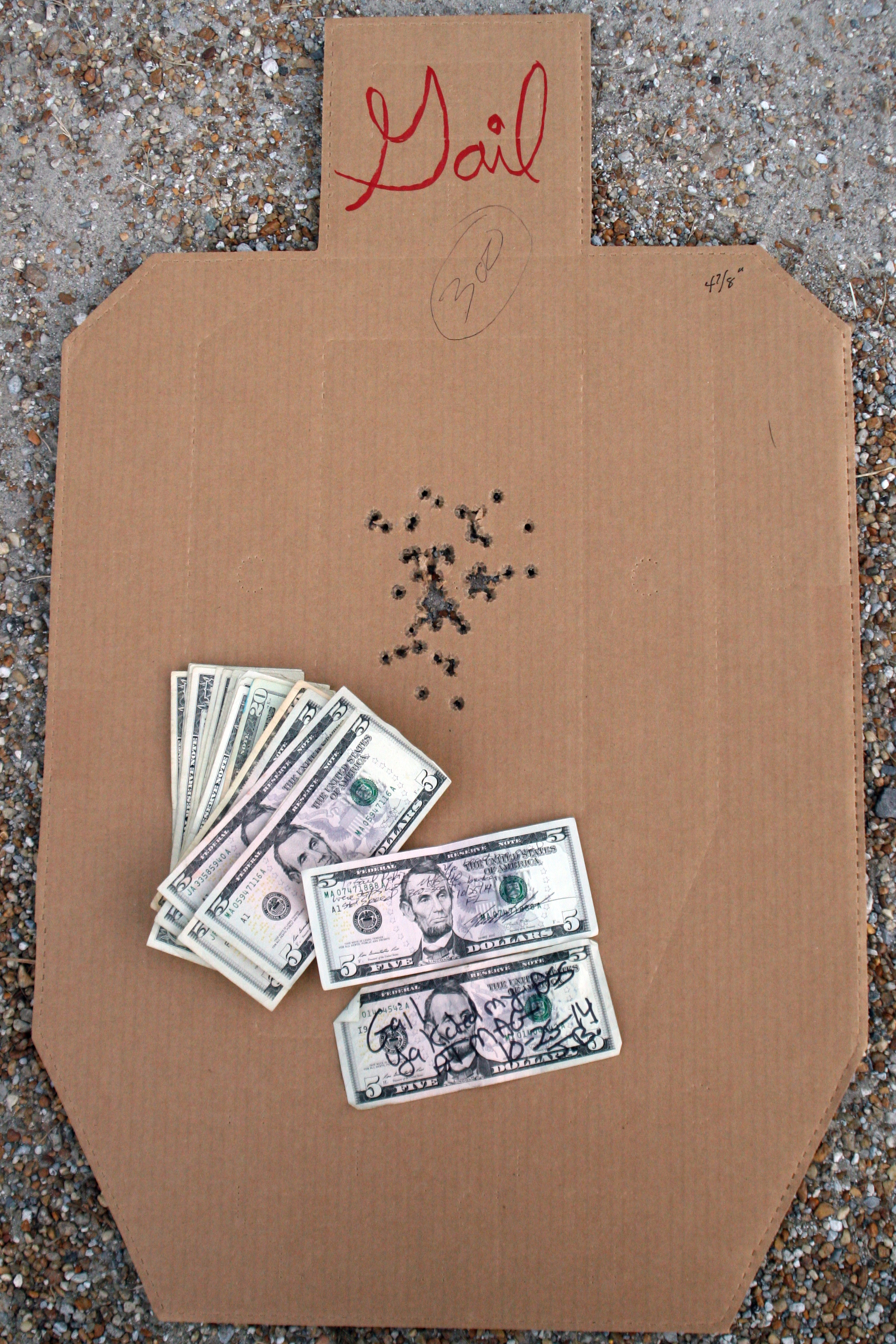 However, beating us BOTH and everyone else, was my own significant other, the Evil Princess.  She does that, every now and then – beating everybody on the range, including all the men, and most cruelly, including ME – because, I suspect, she just likes to feel the testosterone drop about ten degrees in male-dominated environments. J
And nobody's  prouder of that than me.  Chicks rule!