Monday, April 25th, 2016
One of the rare stars who've shot a perfect score on the legendary Rogers test is Gabe White, the only one to have done so from concealment. He used a Glock 34 9mm with an inside the waistband holster in the appendix position. He told Glock Annual, "The Test itself is a real marathon—125 possible points on moving, disappearing plates, with four freestyle draws, eight strong-hand-only draws, two freestyle reloads, one strong-hand-only reload and two support-hand-only reloads. By my count there are at least 142 chances to screw up."
In five days, it felt like I screwed up most of those 142 possibilities at one time or another. Having been shooting for very long time, my biggest problem was wrapping my head around Rogers' techniques and getting away from the ones I've used so long myself. It seemed counter-intuitive when Bill said, "Pin the trigger back after you hit your target, and keep the sights right there, and don't move the pistol until the next target pops up." But it works.  Before I figured that out, I blew more than one target that popped up when I was scanning elsewhere and had to double back with the sweeping gun, and it had disappeared before I got there. Remember, exposure time on Rogers targets is as little as half a second.
My biggest problem was following instructions. I'd run a few stages of the test perfect, a few more pretty good, and then completely blow one. Most often, I'd shoot out of sequence. Rogers demands "near to far" for tactical reasons, and I tended to shoot the one nearest to the sights on multiple targets; even if all subsequent shots were hits, they were invalidated for score by the procedural penalty.  I finally managed to do what I tell my own students: turn off the auto pilot we all seek, and go to manual override.  Conscious competence instead of unconscious competence. Think about what you're doing, if only for an instant. When I managed to do that nine demanding stages in a row, I passed the Advanced score.
In my first blog entry in this particular series, , I wrote, "If you aren't good at taking orders, you probably won't be good at giving them…" Good Lord, little did I know when I wrote those words that I would live the lesson at Rogers'.
There were numerous stages where we had to reload one-hand-only with either hand. Rogers teaches doing that with the pistol in a "V-block" between thighs and knees. For decades I've used and taught a different technique for that, and more than once found myself starting to do my own method, catching myself, and then having to switch to Bill's. That "oops, check, back, start over" ate up enough time that I'd lose three to five of those briefly-exposed targets by the time I got the gun back up. (Bill told me later, "If you'd asked, I would have let you used your own technique, so long as it's safe." My fault for not asking, but I was there to ingrain his stuff, not mine, and it all reinforced a valuable lesson for me.)
A tip of the hat to Bill Rogers and his wonderful staff: Major Adam Smith, Sergeant Kyle Armstrong, and Billy Lumpkin, late of DEVGRU. They all did a wonderful job.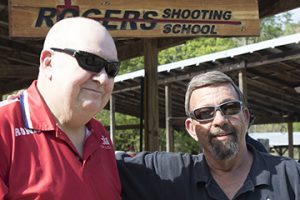 One more Rogers instructor deserves notice. I hadn't seen Ronnie Dodd since he took the Advanced OfficerSurvival course from Ray Chapman and I at Chapman Academy in Columbia, Missouri thirty years ago. He went on to an honorable retirement, during which he taught armed concealed carriers in Tennessee how to stay alive on their own. Ronnie was visiting after prevailing over a bout of throat cancer that would have put most people under.  He kicked its ass – living proof of the survival attitude that he, and the other instructors Bill Rogers surrounds himself with, share with their students.
I haven't taken their Basic class, though it gets rave reviews, but I can tell you from a week of intense personal experience that I give five stars and big thumbs up to the Intermediate/Advanced program at Rogers Shooting School.