Tuesday, October 6th, 2015
Today, October 6, SIG announces its new Legion series of up-featured pistols in their SIG-Sauer Classic line: http://www.legionseries.com/ .
I've been running a pre-release Legion P229R 9mm for a few weeks now in Florida, Texas, and the Midwest.  My review will appear in a future issue of American Handgunner magazine.
Salient points: First, the company made the Legion modifications based on recommendations from some of its heaviest-hitter users in police work and military special forces, compiled by their own highly-skilled and well-informed instructors at the company's excellent school, SIG Academy. Since SIGs are used by many police agencies and are standard issue with SEALs, this is a great pool of knowledge to draw from.  Second, they're creating an on-line "club" for Legion buyers, sort of like a sports car owners' club.  It's going to be interesting to see if that becomes a trend.  The promised quarterly e-newsletter with input from other owners could prove valuable.
I like the new "X-ray" sights, particularly the fact that they were dialed in for point of aim/point of impact out of the box.  With a Bruce Gray adjustable trigger and factory action hone, the Legion is about halfway between the already-famously-smooth standard SIG trigger pull, and a custom job by a top gunsmith like Gray or Ernest Langdon.  I was pleased with it.  In three runs on 60-shot police qualifications in three states, it has given me three perfect qual scores (300/300) and a 599 out of 600 score on the tight rings of a B27 police silhouette in competition scoring. Tough to ask for more than that.  One brand of cheap ammo from WalMart felt weak, which would explain the extraction failures that occurred with it, but with an MSRP of $1428 (expect a gun shop price in the low $1300s), the Legion's target market doesn't buy their ammo at WalMart.  The SIG Legion ran 100% with several other types of standard pressure, NATO, +P and +P+ 9mm ammo, and I'm carrying it today with confidence.
New approaches to interacting with end users are always welcome. I wouldn't be surprised to see other firearms manufacturers copying what SIG has done with these new Legion pistols.
Joining the Legion club makes you eligible for all sorts of goodies. That sort of empty space in the custom case is for your choice of several designer knives with Legion logos, not included with pistol.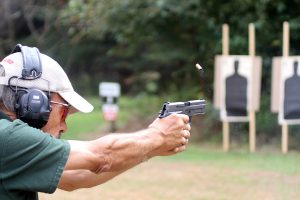 Shooting a pace-setter qualification with the P229 Legion. Shooting characteristics were excellent.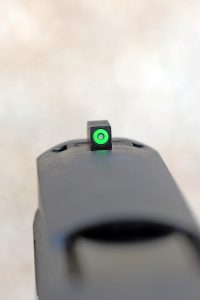 "X-RAY" day-night sights worked great.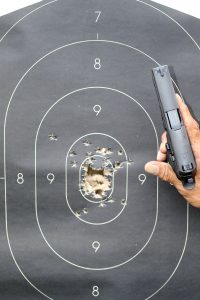 Legion delivered 599 out of 600 in competition scoring for 60 timed shots; the 9 at 10 o'clock was Mas' fault, not the pistol's.