Sunday, July 5th, 2015
I was tied up all weekend with a murder case report, but couldn't let Independence Day pass without a little fireworks.  My brief time-out of trigger-pulling on the backyard range was with 10mm and .45 caliber 1911 pistols.  While safe-diving for the ones I wanted, I spotted a little fancy-stocked, silvery stainless ParaOrdnance Companion .45 from Para's LDA  (Light Double Action) series. Realizing I didn't remember the last time I'd shot an LDA, I threw it into the gun box for the short walk to the range.
And with the first five rounds of Remington 185 grain .45 hollow point I fired from it, two-hand standing at fifteen yards, I got an exactly one-inch group.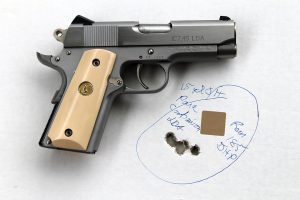 The Companion was a concealed carry design, with 3.5" barrel. Guns that size aren't supposed to shoot that well, particularly in the 1911 platform.  The light double action (about 6.5 pounds pull weight in this specimen) distributes over a long stroke, making it less likely the shooter will anticipate the shot. I was conscious of not having run an LDA in, oh, a decade or so, and was taking care with the trigger pull.
I found myself doing the same a week before, teaching a MAG-40 class for Thunderbird Tactical in Wichita with a Heckler and Koch P30SK subcompact 9mm that I'm testing for Guns Magazine.  It gave me a 300/300 score on the pace-setter qualification demonstration, and I was happy with its performance.  It has the LEM (Law Enforcement Modification) trigger, which like the LDA is a long, light double action stroke for every shot.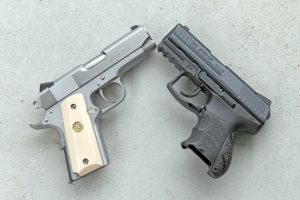 Many years ago, when the great Mike Plaxco was world speed shooting champion and The Man to Beat on the pro shooting tour, I took his advanced class. Therein, he commented that if you've hit a plateau in your shooting skills, you might want to try something new – different technique or even different gun – because it will make you focus more on what you're doing.
This isn't the first time I've seen Michael proven right. Now that that damn 30-some page report is done, I'm gonna spend some more time on this end playing with that neat little LDA. It's a useful concept. I'm told ParaOrdnance has recently been bought by Remington; I hope they keep the LDA option.
While I'm doing that, you're invited to chime in on any shooting experiences you may have had in a similar vein.