Friday, April 1st, 2016
A few days ago, I was passing through the Panhandle of Florida and got to spend dinner with a guy I hadn't seen in 30 or so years, and whom I first met 40 years ago.
I had met "Johnny" Robbins when he was tagging along with his dad Jack Robbins at the first "big money professional pistol match," the National Shooting League event sponsored by Dr. Bob Burgess in 1976 in Laramie, Wyoming. The following year, we met again at the Second Chance Shoot in Central Lake, Michigan.
Johnny outshot his dad at that match. And me. And everybody else.  He set a record time to come up off a shooting bench on a start signal and stop the timer when the last of five bowling pins were blown off a table 25 feet away.
Johnny was thirteen years old at the time.
You can read about it here: http://americanhandgunner.com/1978issues/HSO78.pdf .
Johnny and Jack hit the Second Chance Shoot every year after, and when the Bianchi Cup came along, they shot that too.  That came to an end in the mid-1980s when Jack, who had never smoked a cigarette in his life, died of lung cancer at 47. Johnny came to Second Chance by himself the year after that, but it wasn't quite the same, and…he stopped going.
Jack Robbins, you have to understand, worked at Eglin Air Force Base and was the prime mover in the legendary JSSAP (Joint Services Small Arms Project) tests that led to the adoption of the Beretta M9 pistol all-service-wide by the United States military at about the time Jack passed.
As John and I reminisced (while all the shooters called the kid "Johnny," his father Jack called him John, which is what he has gone by ever since), he remembered that when Jack told Smith & Wesson officials why their guns of the period were failing in the tests, they ignored him, but when Jack told Beretta officials what they'd have to change to pass the tests, they listened. That link from the 1978 issue of American Handgunner has a picture of Beretta's 9mm circa that period. Compare that to the M9 of today. You can see Beretta listened.  A fuller account is in my book "Gun Digest Book of Beretta Pistols."
John Robbins is 52 now, a proud dad and grand-dad himself. Still a shooter, just out of competition for all these years; it was something he shared with his dad, and when Jack passed, it lost meaning.  (Gonna try to get him to shoot a match with me now, though.)  Retired from a career as a firefighter/paramedic, John is now a paramedic working with a Florida hospital. He's carrying on his father's tradition of taking care of others.
Before we parted, John presented me with his dad's Milt Sparks custom holster/belt/magazine pouch set for the 1911 .45 he preferred to compete with. "My dad was right-handed like you, I'm left-handed, and besides, he'd have wanted you to have it," he said.  It's going to occupy a place of honor in my library/gun room.
Read that old article. Please. It will show you how a fine man raised a fine son with guns. For Jack, the guns – like other icons of adult responsibility – were tools of parenting.
Wherever you are, Jack, know that a lot of us still miss you, and it was great to re-connect with your son.  You'd still be as proud of him as you were when he was younger…and I just want you to know, I was glad I was carrying a Wilson Combat Beretta 92G when we met again. Without Jack Robbins, I'm not sure that fine pistol would still be in production, and the iconic American protection weapon it is today.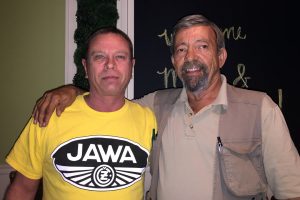 John and Mas today.
Without John's dad Jack, I don't think we'd have today's cool Berettas like this one, from Wilson Combat.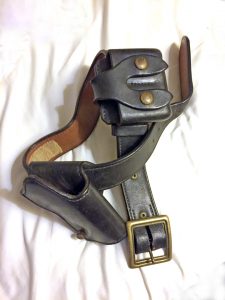 Jack Robbins' old Milt Sparks 1911 rig will occupy a place of honor.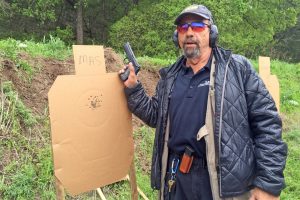 Today's 60-shot pace-setter target, shot in Texas, is dedicated to the memory of Jack Robbins, who did so much to re-design the modern Beretta that was used.