Monday, July 17th, 2017
…you walk into the bathroom and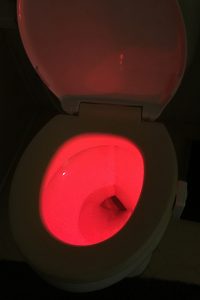 realize she has opened a portal to hell in the toilet.
It turns out that it's a device called a IllumiBowl available from https://illumibowl.com/.  Yes, the colors are optional and changeable.
And people say, "She was so nice when I met her. Why do you call her the Evil Princess?"
Well, now you know.
I had to remind her that frightening old men is a hate crime.
(Or at least, should be…)