Thursday, May 11th, 2017
For months now since I got my early review copy, I've been keeping my promised silence, but now at last Stephen Hunter's latest book "G-Man" is going to officially go on sale May 16.  I can only say – read it!
Regular readers here know I'm a huge fan of Hunter's work.  He gets the gun stuff right.  He gets the characters right, too.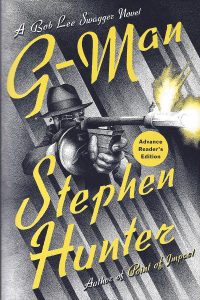 In "G-Man," Hunter creates a character who is a fictional composite of the great manhunters of the early '30s who hunts down folks from the Dillinger gang and, in the alternate universe of fiction, ends up facing Baby Face Nelson.
If you're an NRA member, you've seen the current issue of American Rifleman magazine that has Hunter's superb article on the shootout in Barrington, Illinois in which two federal agents and Nelson killed each other.  Having accessed hitherto unpublished investigative reports on that shooting, Hunter believes Nelson used a Colt Monitor – the civilian version of the BAR, the Browning Automatic Rifle – in that gun battle.  In the novel, however, Nelson is armed for that encounter with the Thompson submachine gun that most historians believed he used in that fight.  My own research, without benefit of the material Stephen accessed, had pointed more toward a .351 Winchester customized by "gunsmith to the outlaws" Hyman Lebman.
Fiction demands the proverbial willing suspension of disbelief.  Bring some of that to the book, and you'll love it.  Based on the considerable amount that is known of the gunmen involved, Hunter brings them compellingly to life in "G-Man."
From the reviewer's side, I was born in 1948. Both my parents, like all of America during the Depression years, had watched the wild ride of all those early '30s "celebrity criminals" like Dillinger and Nelson.  I remembered reading about them in my mom's detective magazines, which were popular in the '50s.  Dillinger, Bonnie & Clyde, and Nelson met their ends from police gunfire in 1934.  Those shootings were about 20 years in the past when I first learned of them as a little boy. For perspective, the FBI shootout in Dade County, Florida in 1986 is now more than 30 years in the past, yet today are still widely cited in discussions of ballistics and tactics. So, you can see I was interested before I opened Stephen Hunter's latest book.
I can only repeat, Read it!  It's one of the best from one of my favorite authors, and I expect you'll enjoy it, too.