Wednesday, May 31st, 2017
Optical gunsights, in the form of telescopic sights, proved their worth in the 19th century, and today are all but standard on most hunting rifles that aren't intended for short range.  Red dot optical sights – giving a single focal plane of both aiming index and target, but not necessarily any magnification – showed up in the mid-20th century, as did telescopic sights for handguns.  They were novelties then…but technology moved on.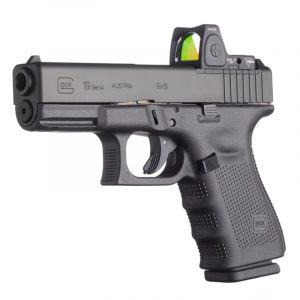 Today you see red dot optics on rifles and handguns alike in competition, ranging from standard bulls-eye pistol to action three-gun matches, and red dots have proven themselves fast, accurate, and rugged enough for combat in the Middle East.  The latest evolution, led by the Trijicon RMR (Ruggedized Miniature Reflex), are small enough to sit atop the slide on a concealed carry gun.  I know a couple of cops who carry them on their duty pistols, and more private citizens who are doing so.  They are a logical answer for older shooters with aging eyes.
How well do carry optics work, really?  My friend Karl Rehn at KR Training near Austin, Texas is a grandmaster in the United States Practical Shooting Association's Carry Optics division, and has done more solid research on the concept than anyone I know.
Here is his lecture given at the MAG-40 class I taught at his place earlier this year, courtesy of ProArms Podcast.  More details of his study are at Karl's site.
A better mousetrap or not yet ready for prime time in concealed carry?  Ya gotta give 'em a fair shake before you make your decision, but I know some folks who swear by 'em.  Let us know here what you think of the concept.