Monday, March 2nd, 2015
I'm still sorting voluminous notes taken at the annual Rangemaster Tactical Conference, held last week at the Memphis (TN) Police Academy.  Though police and to a lesser extent military folks were certainly represented, the majority of the turnout was comprised of law-abiding citizens who keep and carry guns to defend themselves and those within "the mantle of their protection."
Host and founder Tom Givens makes this conclave an extraordinary mix of participatory hand-to-hand work, live fire defensive shooting, and classroom lecture by subject matter experts. The attendee picks his or her chosen classes from an agenda too big for any one person to take everything. A good overview can be found here  from Andrew Branca, who presented articulately there on his signature topic, the law of self-defense.
As always, a side event was the famous Polite Society Match, named after Robert Heinlein's famous quote that "An armed society is a polite society." For 2015, 136 of the 180 or more participants shot the match. This year's event was deceptively simple: two targets at only three to seven yards, timed including mandatory draw from concealment, with hellacious penalties for hits outside the relatively small (and indistinguishable) "five out of five point" boxes in the center of the targets' heads and chests.  What made it tricky was extremely dim light.  As you watch one attendee go through it, bear in mind that DrZman, who took the video, had to use his techno-magic to brighten the scene up considerably so a viewer could see what the heck was going on in the first place:
Or Click here to see video: http://youtu.be/8jBiemCQKC4
Congratulations to Tim Chandler, who won with an awesome score fired with a 9mm Glock 17.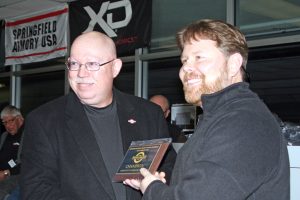 February weather was ugly in the mid-South, so next year they'll be putting it closer to spring. You can't get a better deal on a smorgasbord of America's top self-defense trainers. It's now a regular stopping point on my own learning calendar. Sign up here: http://www.rangemaster.com/2016-tactical-conference/.