Friday, November 30th, 2012
OMG…there are HOW few shopping days left 'til Christmas?  And there are "gun people" on your Christmas list?  And you're a gun person yourself (or else, why would you be reading this blog?), and other folks are asking what you want for Christmas?
One thing I can suggest is the Panteao Productions series of videos.  You can stream them to the computer, or you can order them on DVD.  Ordering info, and the whole catalog, can be found at http://www.panteaoproductions.com/.
Now, in the spirit of full disclosure, I'll mention that one of those vids is mine, on the topic of home defense.  But I'm just a drop in a great sea of talent that Panteao founder Fernando Coelho has put together.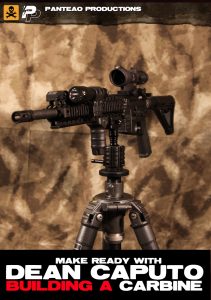 You've got flicks on how to win action shooting matches of the IDPA kind, by top guns like World Champion Bob Vogel, National Champ Tom Yost, "Super Dave" Harrington, and more.  I've shot with these guys and seen their presentations, and I can tell you you'll get a lot out of what they have to say even if you have no intention of entering competition.
Paul Howe has a neat flick on how to run the M16/M4/AR15 platform with speed and accuracy. I showed that to my sweetie's grandson a while back when we were getting him ready to go to USMC boot camp. He qualified Expert there.  Need I say more?Thinking about putting together your own AR-15? That's the "in thing" today, kind of like decades ago when it was so popular to buy an old military surplus bolt action rifle and "sporterize" in into a hunting gun.  The latest Panteao vid has masterful Colt armorer Dean Caputo showing you how to build your own AR…and Dean, a gunfight survivor and veteran cop, also has Panteao vids showing you how to disassemble (and, more importantly, reassemble) the pistol that saved his life in a shootout with multiple armed gang-bangers, the 1911 model.
There are too many solid experts on the Panteo pantheon to list here, but I can tell you that I've seen most of their training films and gotten a lot out of them.
Stay tuned for more holiday season gift suggestions.