Monday, October 1st, 2012
So, I finished a class in the Salt Lake City area on Saturday, and stayed an extra day to shoot the Glock match there (www.gssfonline.com) on Sunday.  The Evil Princess and I brought four friends.
They all told me they enjoyed heck out of it.  They all shot well.  We lent guns to a couple of them, which is just what you do when you're introducing folks who are already shooters (as these were) to a game that is new to them, and of course, what you always do when you're giving an introduction to those who don't have guns of their own yet.
A shooting match is a great opportunity to meet new friends. We met many in Salt Lake.  One who stuck in my mind was a nice young lady named Tennille Chidester who was running the Glock M stage.  When she saw my name on the scoresheet, she realized it was probably the guy of the same name who wrote the book her father gave her when he presented her with her first handgun at age eighteen.  For me, it was one of those "you made my day" moments.
She and the rest of the crew at the Lee Kay Shooting Center in Salt Lake provided a friendly and welcoming atmosphere. It was a leisurely event with little waiting to shoot. (If ya want a relaxed pistol match, go to one in Utah on a Sunday morning.)
The preliminary scores show that it was a day of second places for our group. My significant other and I shot OK…she took second place female, and I took second place in Master Stock and Subcompact. I didn't feel too bad about that, because I shot a subcompact 9mm Glock 26 throughout, including the stock gun (service pistol) and competition gun (target pistol) events. The guy who stomped me into the ground and captured first place across the board was Bryan Dover, and losing to him in this game is kinda like losing to Tiger Woods at a golf tournament: ya didn't have a chance of beating him anyway, but you're just kind of honored to have been able to compete with him in the same match.
On days like that, it ain't about how well you shoot, it's about the friends you brought to the range.  All four of ours shot well under pressure, and they all made me hugely proud of them, none more than Tommy Nelson. The other second place listed on the preliminary results was Tommy in the largest category, Amateur Civilian. He came one down from the top there, in his first time shooting this discipline!
That was WAY more important to me than my own finish.  You know that everyone shooting a given kind of shooting match for the first time has in the back of their mind the fear that they'll come in dead last.  The fact is, they probably won't.  But even if they do, they will have come in ahead of a countless number of macho men who look in the mirror and think they see a tacti-cool honcho of the gun, but don't have the guts to put it on the line in public at a match…like the shooter you brought, DID!
Take someone shooting.  On the practice range if they're new, and to a match if they're ready.
You'll feel as good about it as I do, today…
Tom Nelson contemplates a good day of shooting in Utah. He did great in his first GSSF match.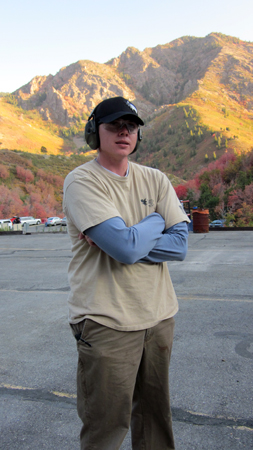 The captain and Tennille.  Capt. Ayoob with Tennille Chidester, one of the hard working GSSF range officers.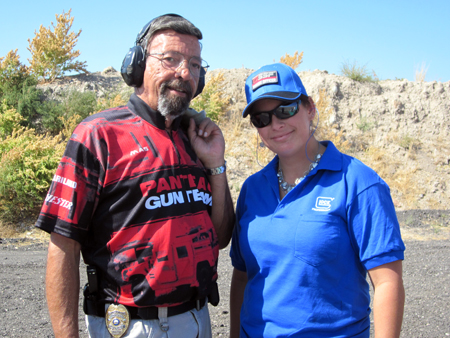 The white steel target at left is on its way down from a .40 bullet fired by Carl Albright at his first GSSF match. He shot well.