Friday, December 9th, 2011
Our young houseguest flew home today after a week of shooting. A city kid who had been to the range exactly twice in his life with .22s, before he got here last week, he left some pretty good scores behind. He was averaging three-quarters of a second to react to a start signal, raise his AR15, off-safe it, and score a hit at seven yards. Took him around one second to nail the target twice.  He was averaging a 95% score at 100 yards with the 5.56mm, did fine with the Beretta M9 pistol, and he just ate up the civilian versions of the M14 and the precision rifle.  It was a thing of joy to watch. He wanted to learn, and had no bad habits to burn out before he focused on building strong, repeatable technique.
I really enjoyed reading the commentary on my previous blog entries about his visit, and his familiarization with the guns he'll be working with in the USMC.  I have no illusions about being able to train the lad better than the Marine Corps, but at least he won't be flabbergasted by totally new technology and technique when he gets to Basic.  I agree in theory with those commentators who'd like to see some elements of the Swiss Model of citizen/soldier training incorporated in the USA, but I also agree with those who sadly say that the budget isn't there to make it happen.  That's why I think it's important for us, the civilian friends and families of the next generation of fighting men and women, to give them the kind of head start that allowed Sergeant York and Colonel George and Audie Murphy and Carlos Hathcock to come back from war in one piece…and to leave so many enemy soldiers neutralized by the time their duty was done.
As I mentioned earlier, the little .22 Long Rifle Smith & Wesson M&P rifle, an AR15 clone with the exact same "manual of arms," proved to be a great training tool.  It's time to be thinking about "Christmas Presents for Shooter Folk," something I touch on annually here.  The M&P .22 is available for under $500.
In my December 12, 2010 post here almost a year ago (archive function is at the right) I mentioned the Konus spotting scope as an excellent Christmas present. It has certainly served me well in the intervening year. The Konus was on the firing line the whole time the grandson was shooting at Appleseed last week, and is still an excellent buy. Ordering info is in that prior entry.
Konus spotting scope allows doting grandmother to tell when two of her grandson's .22 slugs have gone through the same hole downrange at an Appleseed shoot.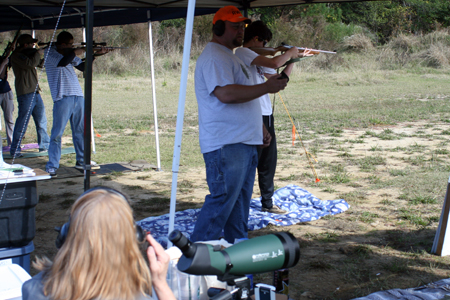 Firing a SOCOM-16, spent 7.62mm NATO (.308 Winchester) case is jetting from ejection port (arrow) and dust is rising from powerful impact into backstop, but grandson still has muzzle on white silhouette downrange for the next shot.  "Da kid done good."