Sunday, November 6th, 2011
Shot the South Mountain Showdown this past Saturday, a major IDPA match (www.idpa.com) sponsored by the Phoenix Rod & Gun Club (http://www.phoenixrodandgun.org). It was my second time there, and I'm more convinced than ever that this is one of the paradigm shooting matches in the country. An enthusiastic member base, assisted by shooters from elsewhere who appreciate what they do, comprise an outstanding team of well-trained range officers who keep things running smoothly and fairly.
Over a hundred competitors began a little after 8 AM.  Most of us were done shooting by noon. A "shotgun start" allowed the shooters to proceed to whichever bay they wanted, which kept any one shooting stage from becoming a bottleneck.  If shooters were stacking up at Stage 3, you simply submitted your score sheet at Stage 2 or Stage 8 or wherever.  Officiating was fair, the atmosphere was pleasant in terms of both weather and people, and the whole match was simply a joy to participate in.  To give you an idea of the planning that went into it, the host club went over years of weather reports to come up with an annual date that was likely to give the most mellow and temperate weather for shooting in Arizona.
The early finish allowed the Evil Princess and I to do some sightseeing while scores were being compiled. The mountain that gives the match its name is adjacent, and while we didn't have time to hike, the drive to the peak of South Mountain is one of the most beautiful I've experienced in what may be our nation's most beautiful state.
The club had solicited enough donated prizes that every competitor went home with something. The stages were challenging, and the winners ran the gamut from geezers like me to Jacob Hetherington, who at age fourteen captured not only High Junior but First Master overall in the Stock Service Pistol division. I met him and his justifiably proud dad at this match last year, and trust me, young Jacob is a rising star to watch in this game.
Thanks to all who made it happen.
Brass flies from this shooter's 191 as he nails one of two targets that duck out from behind "hostages," and are exposed for only two seconds simultaneously.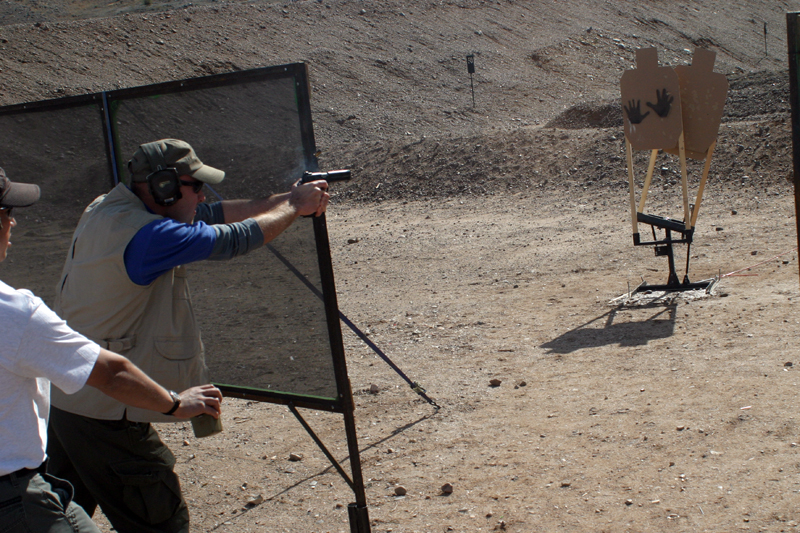 Keep an eye on this kid: Jacob Hetherington, 14, won First Master in Stock Service Pistol against the adults, and of course captured High Junior honors as well.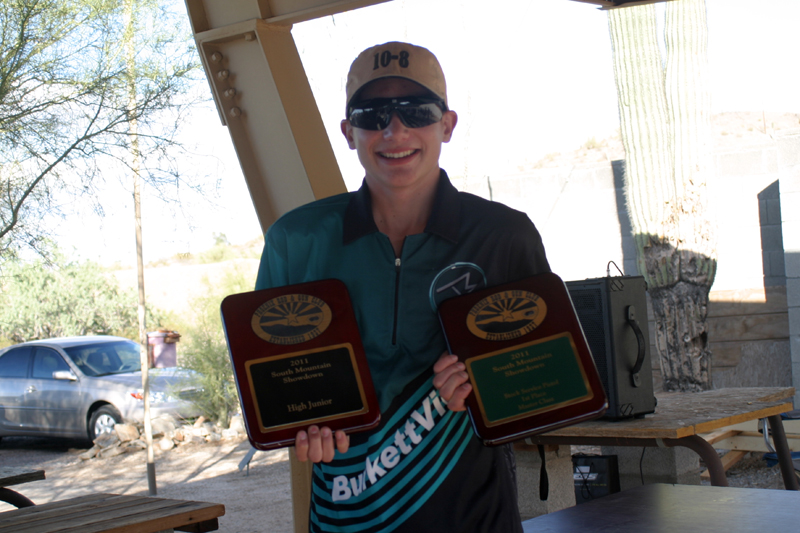 There's lots of fun touristy stuff to see in the South Mountain area.