Tuesday, October 4th, 2011
The current issue of Backwoods Home magazine contains my article, requested by Editor Annie Tuttle, on how to best fit guns to women.
http://www.backwoodshome.com/articles2/ayoob131.html
I see the importance of fitting guns to smaller bodies constantly in my "day job" at Massad Ayoob Group. (http://massadayoobgroup.com ). A few weeks ago in Harrisburg, Pennsylvania, we had some excellent shooters in one of my MAG-40 classes.  More than half shot 300 out of 300 on the final qualification run, which encompasses 60 timed shots including strong hand only, non-dominant hand only, standing, kneeling, etc.  The tie-breaker win for overall top shooter went to a young lady who kicked mucho male boo-tay to do it.
She came to us already a very fast action pistol competitor, and on the skill-set side of the class, we concentrated on sharpening up her accuracy.  She clearly was listening.  She started out with a CZ75 9mm, a rather large Czechoslovakian pistol, and wound up switching to a Smith & Wesson Military & Police pistol in the same caliber. As noted in the above-linked article, this gun has interchangeable backstraps to adapt fit in general and the trigger-reach dimension in particular, to the shooter. This was the gun she used to win the "shooting contest," capturing the pot of a dollar each from all the shooters in the class.  (We do that the Bill Jordan way: "No Second Place Winner.")
It was her focus, skill, dexterity and mental discipline that captured the victory, but a firearm that perfectly fit her small hand was a part of it, too.
"If it doesn't fit, you won't hit"… at least, not as well as you might have. And that goes for the guys as well as the gals.
With spent brass from the last shot still in the air, this young lady is already on target for the next with a well-fitted S&W M&P 9mm, as the stopwatch ticks…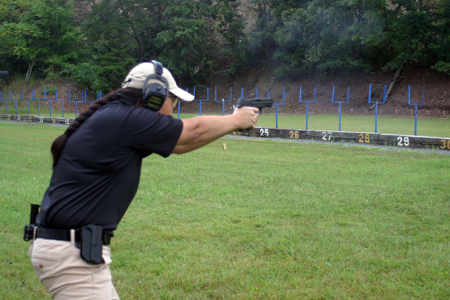 …and she finishes at the top of her class, beating all the men, with a 300/300 "qualification mode" score, and a high 590s out of 600 tie-breaker in "competition mode scoring."  Scoring key for qualification mode can be seen at upper left of the B27 silhouette target.