Friday, July 29th, 2011
After the last entry on the atrocity in Norway, the saying "An armed society is a polite society" got kicked around a bit by the commentators here.
The phrase comes from Robert Heinlein, popularized by Col. Jeff Cooper, and means that people don't generally do atrocious things to folks who have the power to kill them. I was reminded of this rather recently upon a visit to Memphis to teach for my old friend Tom Givens, both a friend and a student of the late Col. Cooper. Tom was the founder, and remains the host, of the annual Polite Society event, named after you-know-what. This is a combination training seminar and practical shooting match, shared by armed citizens, cops, and soldiers alike. Info is available at www.rangemaster.com.  I've gone to the last three Polite Society gatherings in a row, and found them both educational and enjoyable.
Memphis is one of the most violent-crime-prone cities in the nation. Tom is the most famous firearms instructor in the city, and something close to sixty of his graduates have been in gunfights thus far. The only ones who haven't won their shootouts were the slim few who weren't armed when trouble came looking for them. The overwhelming majority of those who attacked them are no longer violently impolite, though many of them are rather, uh, stiff.
Upon arrival in Memphis, the Evil Princess and I decided to stock up on adult beverages (on the theory that a mellow society is a fun society). The liquor store we picked at random had a sign in the window advertising to potential armed robbers that all employees were armed.
Discussion with staff determined the fact that no armed robber had yet tried to hit the place.  When ALL the staff can shoot back, even the dimmest of primordial criminal brains can figure out they can't kill every resisting "victim" before they themselves get blown away.
Yeah, I know: "Correlation is not causation."  At the same time, logic is logic and biology is biology, and we can't help but notice that the creatures with fangs and claws don't hunt each other for their daily meat.  There is, I respectfully submit, a lesson in that…
In polite societies, fair warning is given…see arrow.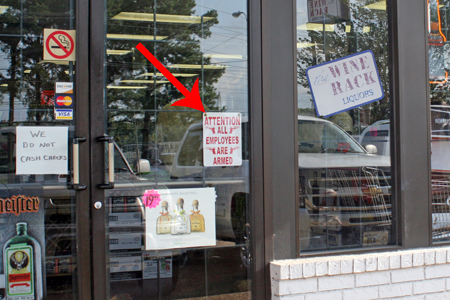 This writer is comfortable doing business with brother Rick, who carries a Beretta Cougar .40 for the protection of his customers, his coworkers, and of course, himself.