Tuesday, March 29th, 2011
March 29, 2011 is upon us, the hundredth anniversary of the 1911 pistol's adoption by the United States Government. OK, OK, I know I seem to be obsessing on it…but I'm a gun guy, dammit, and this is my single favorite gun that we're talking about here…
My last blog entry mentioned the upcoming Centennial, and reader Iwoots commented, "Mas, do you still have &/or shoot that first 1911?" I realized to my horror that the answer was "Yes and no." I still have it, but hadn't shot it in years, and Iwoots' comment prompted me to dig it out of mothballs and take it to the range. It fit my palm like that proverbial "handshake of an old friend"…and, even in the rain, it still put a magazine of seven 185 grain Remington .45 hollow points into the head of a silhouette target 25 yards away from the barricade I braced on.
My dad bought it for me for $37.50 from Stan Sprague's gun shop in Hooksett, NH 50 years ago. He was unsure whether I'd be able to handle its allegedly ferocious recoil. Frankly, so was I.  Stan took us out back behind the shop on Route 3, with a magazine of lead bullet reloads. I held it extended in one hand like I did my .22 pistol, braced myself, and squeezed off a shot. The .45 bucked gently in my hand. I remember saying, "I like it, Dad…"
It was a WWI vintage original 1911, produced by Colt in the year 1917. It had a gray patina on it and the right-side diamond-cut wood grip panel was worn almost completely smooth of checkering. In those days, "mil-surp" .45s were common as dirt, and we all modified them without realizing that by the year 2011, one in original condition would be worth thousands of dollars. The early gun had a small-tang grip safety and a spade-shaped hammer, the combination of which bit the web of the firing hand, so I had the gun shop across the street from Sprague's, owned by master gunsmith Dick Riley (who would later become president of the NRA) install commercial Colt Government Model grip safety and hammer, and reblue the old beast while he was at it, and install a Series '70 barrel too. One of Dick's gunsmiths – Nolan Santy, who would later become a dear friend and mentor – beveled out the magazine well and roughened the frontstrap of the frame for a more solid hold. It became my service pistol for much of the eight years I later spent as a part time cop patrolling the same community where my dad had bought the gun for me.
I'll be wearing a more modern 1911 .45 on the Centennial – time marches on, after all, if rather slowly in the world of the gun – but I won't let go of that cherished Colt until one of my kids gets it when my will is read. Thanks, Iwoots, for bringing me back to my roots there.
Old guns that helped to shape us as shooters…many of you have stories like that to tell.
I invite you to share them here.
This Colt 1911 has been around for 94 years, and owned by the author for 50 of 'em.
The gun doesn't feel 94 years old, even if the owner does.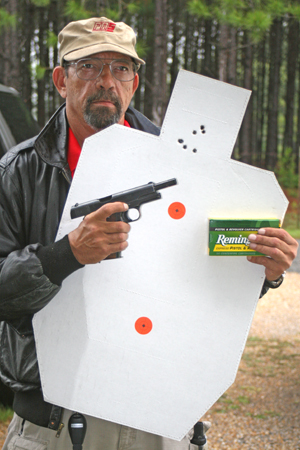 Top, original model of 1911, produced by Colt in 1917, a few parts upgrades since…below, Les Baer 1911 .45, produced in 2011. Not all THAT many changes in a hundred years…