Sunday, January 2nd, 2011
Happy New Year, gang!
Yeah, I know: New Year's resolutions. My approach to that is similar to the Massad Ayoob Method of Training Cats™. When I say "Kitty, do whatever you want," the feline invariably obeys me.
Lose weight? Work out more? Quit this or cut down on that? I learned long ago that the more I lower the bar in such expectations, the more successful the outcome seems to feel. A resolution of "Do whatever I want" bodes much more for success.
So, plan for success by resolving to do win-win stuff!  A case in point:
Last year, we mentioned here the Wounded Warrior raffle from International Supplies. Their PR lady, the lovely Ali Palmos, arranged it. She appreciated the support of the Backwoods Home Blog readers last year, and is once again making the unique offer for any of you who want to buy tickets to do so by mail. Ordering info is HERE.
Support the Wounded Warrior project…you know you wanted to anyway. It is a most worthy cause.
Make a pretty girl happy again at the same time…that never hurts.
And, not incidentally, have a pretty good crack at winning the high speed, low drag, WAY cool Novak Custom shotgun pictured here!
See what I mean about win-win resolutions being the easiest to keep?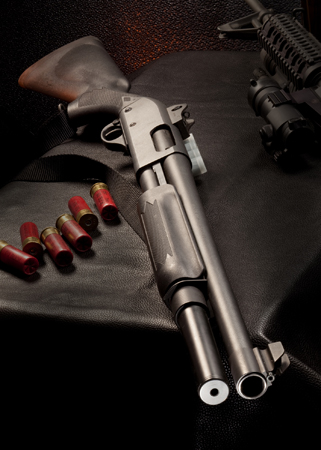 Buy tickets for the Wounded Warrior raffle gun (above, courtesy Wayne Novak) and make Ali Palmos, below, smile again.