Wednesday, June 2nd, 2010
As noted in the last entry here, more insidious people are coming through our porous southern border than folks who just want to get jobs in the US and support their families.
Those who patrol the borders – and those who own adjoining property – find things left behind by the border-crossers, such as Moslem prayer rugs and copies of the Koran. Since there aren't a whole lot of Mexicans who practice the Moslem faith, this leads people of logic to the conclusion that Islamic fanatics who have declared a fatwa against the United States are crossing into our country there. At least one left behind a patch celebrating "martyrdom" in Arabic. See LINK HERE .  It doesn't exactly take Sherlock Holmes or Dick Tracy to put it all together.
I've seen intelligence briefings that indicate Al Qaeda members are among those who have penetrated our border via this route, assisted in some cases by Mexican drug cartels. There is strong evidence to suggest that they've brought in hardware that includes crew-served weapons and explosive materials.
Picture Mumbai: a handful of commandoes roaming the streets, machine-gunning every innocent person in sight with AK47s, setting fire to heavily occupied buildings as they go. Now picture it in this country, combined with massive explosions at power plants and communications centers within the target communities, to kick off the attack. Then, picture it happening in multiple cities at once across the United States when Osama bin Laden "pulls the trigger" on the attack.
You have trouble picturing that? Some highly placed American intelligence people don't.
During my recent visit with various elements of law enforcement along the Arizona border, I learned that the night before my arrival, three Sudanese had been caught in Tucson taking classes to become pilots, and were turned over to the FBI. Huachuca City Police told me that illegally-immigrating Jordanians had recently bought 500 cell phones in their city, and FBI was called in on that one too.  Al Qaeda terrorists use cell phones to detonate IEDs. Devices that trigger Improvised Explosive Devices to maim and kill American troops in the streets of Iraq can, of course, perform the same function in American streets.
Our top intelligence people warned us long before 9/11/01 that terrorism was coming to America, and it was only a matter of time. The elements for another Mumbai, but in the USA and on a massive scale, are already here.  And much of that seems to have seeped in through the southern border.
Left to right, Chief Dennis Grey, Officer R. Thomas Allen, and Lt. Jennifer Fuller of Huachuca City, Arizona PD. They've caught illegal immigrants from Jordan purchasing disposable cell phones of the type used to detonate IEDs, in large quantities.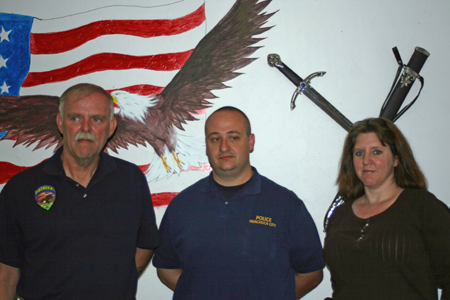 The US Border Patrol works valiantly to stop the influx of illegals, focusing on the most dangerous ones, but are severely short of manpower and budget for their gargantuan task.