Wednesday, March 17th, 2010
I spent part of yesterday with Otis McDonald, the lead named plaintiff in McDonald v. Chicago, now under deliberation by the United States Supreme Court. When the Second Amendment Foundation mounted this challenge to the Chicago handgun ban, they could not have made a better choice. Mr. McDonald is your quintessential hard-working, self-made American.
Beginning life as the son of a sharecropper in Mississippi, he served in the United States Army, spent thirty years working for a university, and is now trying to finish his life in peaceful retirement with his spouse. However, the Chicago neighborhood where he has owned a home since the 1970s has been increasingly blighted by dope dealers, gang-bangers, and the sort of punks who harass and harm the elderly.  He has been threatened on the street, and his home has been broken into numerous times.
Those who say, "You don't need handguns because you can always buy a shotgun for home defense" should sit down with an open mind and listen to someone such as Mr. McDonald. "I'm 76 years old," he points out. "Yes, I own long guns…but how long do you think it will take me to get up, get out of bed, and get my hands on a shotgun if someone is breaking in through the bedroom window?"
Justice Scalia wrote something similar in the majority opinion in Heller v. District of Columbia, which confirmed that the Second Amendment was an individual right, and set the stage for McDonald, which will determine whether the states are bound by the Heller decision.
Otis McDonald's compelling words will soon be posted on the Pro-Arms Podcast, http://proarmspodcast.com. One of the last questions I asked him was what sort of handgun he planned to acquire if, as almost all SCOTUS watchers predict, the case that bears his name results in an opinion that shoots down the nearly 30-year-old Chicago handgun ban. His answer? A 1911 model .45 caliber semiautomatic pistol…a gun he became familiar with as a soldier defending his country.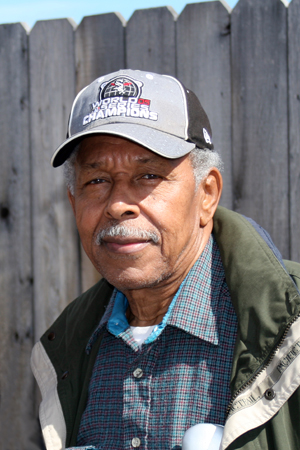 Otis McDonald, photo by Gail Pepin