Thursday, February 4th, 2010
"We're proud that even experienced rifle shooters always seem to learn something here," said Florida State Appleseed Coordinator Eric McCabe at the event in Hernando last weekend. He then asked, "Who learned something here in the past two days?"
Everyone's hand shot skyward. Including mine.
Some of the lessons I learned in 500 rounds or so, and a few runs over the challenging Appleseed Qualification Course:
PREPARE THOUROUGHLY…AND DOUBLE CHECK EVERYTHING BEFOREHAND.  The night before leaving for the shoot, I put a 5,000 round case of .22 ammo in my SUV…and the next morning, made the impromptu decision to take the Significant Other's van so we'd have more room. The ammo stayed behind…and I was able to buy Remington Thunderbolt for $40 per 500 rounds at the range. I was lucky there. I replenished the supply with CCI Mini-Mag at a Wal-Mart the first night. Just call me "Mr. Tactical" … sigh …
EVEN THE BEST EQUIPMENT CAN FAIL. I had gone to Appleseed with a perfect gun for it, one I hadn't shot for at least eight years: a Ruger 10/22 Clark Custom "Squirrel Gun," built by the late Jim Clark, Sr.'s daughter Kay Clark-Miculek. The Douglas heavy match barrel is just over 16" long and fluted, giving accuracy with perfect balance for fast offhand shooting, and the famous Clark trigger job helps a shooter do his best. A stock designed for practical rifle shooting from Brownell's had been added, and an inexpensive Tasco scope worked fine…but I had neglected to Loc-Tite the scope mount screws, which Appleseed line officer Doug Cowan spotted, and corrected, since Mr. Tactical here hadn't brought any Loc-Tite…(sigh again). Thanks, Doug. Prior to the fix, the scope had "walked" forward on its rings, taking the groups to places I didn't want them to go, and costing me my first attempt to win the grail of the Appleseed, the Rifleman's Patch.
CHECK THE RULES BEFORE YOU ENTER THE CONTEST. On my second try on the qualification course, I shot 232 out of 250 possible, with 210 required to earn the Patch. Unfortunately, the replicated 400 yard sequence on four tiny targets required ten rounds to be fired in a 2-2-3-3 shot sequence. Mr. Dyslexia here shot 'em 3-3-2-2 instead. Part of the Appleseed core goals is instilling discipline, and that cost a price: the score went down from 232 to 216. That would have still been six points higher than needed to "make Rifleman," but…
…The old guy here had also shot the Clark 10/22 using the bottom of an extended 25-round magazine as a unipod, which definitely steadies the gun. I thereafter learned that this is not kosher at Appleseed; they want the shooter using techniques that will translate to any rifle. So, I had to shoot again with short magazines and no "monopod" technique; the third time was the charm, with a 229 score and the Rifleman's Patch. I hadn't been able to find an Appleseed Rule Book online, and should have asked about the technique when I got there. Mea culpa…lesson learned.
So, yes, we old rifle shooters can learn (or re-learn) things at an Appleseed, even though the program has its most dramatic effect on new shooters. Check out the Appleseed website and you'll get an idea why I'm enthusiastic about what they do.
"Next episode," we'll talk about suggested hardware to bring, and software to practice beforehand.
Gail Pepin switched to standard stainless 10/22 with conventional scope after her tricked-out 10/22 and red dot sight both suffered mechanical problems. (Photo courtesy Paul Brown, Appleseed)

Mas shoots Clark Custom 10/22, using extended magazine as unipod, only to discover that technique is forbidden at Appleseed. He had to re-shoot. (Photo courtesy Paul Brown, Appleseed)

Test your rifle and ammo before you attend. Extraction failure jammed this customized 10/22.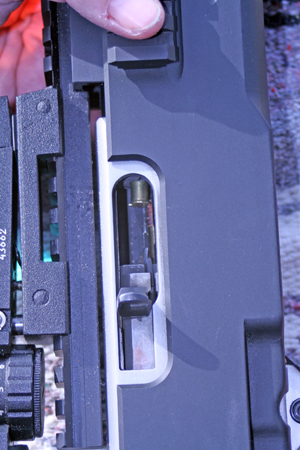 Appleseed Qualification Targets are challenging. Center "V" rings are the size of pencil eraserhead, 9mm case diameter, a dime, or a bottlecap respectively. See previous post for discussion.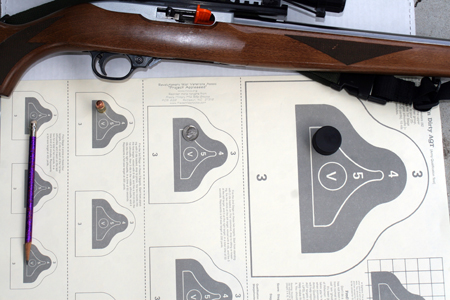 "Zero" your rifle before you go. This is 10-shot/25 yard group. Knowing your gun and ammo "can do it" builds confidence.