Tuesday, January 19th, 2010
They were still setting up the displays when I left the SHOT Show site at the Sands Convention Center tonight, with the Show officially scheduled to open tomorrow, on Tuesday the 19th. I was able to attend one of the three "Media Day" live fire gatherings held for the firearms press traditionally on the day before opening, which this year was Monday the 18th.
The one I attended featured Smith & Wesson guns, including their subsidiary, Thompson/Center. The latter firm introduces a cool new camouflaged turkey gun, a 12 gauge with red dot sight in their lightweight single barrel/single shot format. For those who are confident enough to feel they don't need a fast follow-up shot, it will be slick.
T/C's Venture rifle is a low-priced bolt action that has the same minute of angle (i.e., about an inch at 100 yards) accuracy guarantee of their more expensive models. The trigger was sweet on the .22/250 test sample I shot, mounted with a very nice Trijicon scope, and while the indoor test range didn't give us much distance, the groups showed that it should live up to the promises its manufacturer makes for its accuracy.
S&W has some nice updates of old favorites. The hammerless lightweight snubbies will now be made in .22 Long Rifle (ideal for cheap practice for those who carry their larger caliber brother guns), and .22 rimfire Magnum, which holds promise for self-defense in the hands of those who are recoil-sensitive, and would also be a handy short-range pest control device on the farm. The company introduces lightweight Scandium-frame hunting revolvers, a 7-shot .357 Magnum with 6" barrel and a 6-shot .44 Mag with a 6.5" barrel.  The improved Performance Center trigger group is now available on the standard size Military & Police polymer framed auto pistols and not just the 5" barrel match gun: my buddy Steve Denney shot an exquisite group with a test sample in .40 S&W.  My pick of the litter among improved older models is a 625, the .45 ACP "moon clip" revolver, with a shortened cylinder and 4" barrel. I've ordered one I hope to shoot in the soon-to-come Florida State IDPA Championships, if I get it in time to sight in and practice a little. Yes, it's that good.
Also attended a briefing on two radically new (for S&W) handguns, which will carry a respected old S&W name: the Bodyguard series.  We were asked not to say anything to our readers until 9AM Pacific Time tomorrow, the 19th, when the guns will be officially announced at the SHOT Show. (S&W's top PR guy, Paul Pluff, was staring at me pointedly when he made that announcement.) So, I'm writing it now, the night before, and will try to pull the trigger on the blog post from the press room at the convention center first thing in the morning.
These new handguns seem to be S&W's answer to Ruger's hugely successful LCR and LCP lightweight compact handguns. The .38 revolver version is a five-shot of totally new design – the cylinder turns clockwise like a Colt instead of the traditional counterclockwise rotation S&W is famous for – and its cylinder release latch is (gasp!) on the top of the gun.  The .380 auto is polymer framed, with thumb safety, good sights, and a double action only trigger.  
Each of these handguns will come with an integral laser sight from InSight in New Hampshire. When you consider that laser sights cost hundreds of dollars as aftermarket accessories, the pricing ain't bad. The Bodyguard .38 revolver will carry a suggested retail of $625, and the Bodyguard .380 auto will go $575. Both shot well in our limited testing. I particularly liked the .380…well, as much as I like any .380, anyway…
More tomorrow when the Show officially opens.
Steve Denney's fingers show the number of shots, 5, he fired into this tiny group with new service-size M&P .40 pistol with trigger system from S&W Performance Center.
S&W's latest Model 625 revolver, with shortened cylinder and 4" barrel turned deeper into the frame. Caliber is .45 ACP, with super fast "moon clip" reloads. Action has to be felt to be appreciated.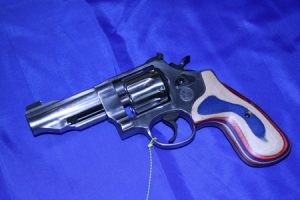 S&W's new Bodyguard .38 has cylinder latch ambidextrously located at upper rear of frame, and integral laser sight.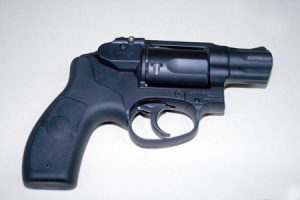 S&W's new Bodyguard .380 auto pistol has thumb safety at left rear of frame, and integral laser sight under the barrel.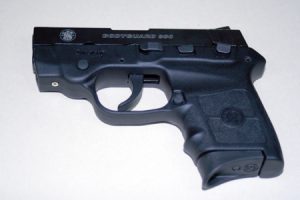 Mas enjoys the sweet trigger pull of Thompson/Center's new economy-priced, guaranteed accuracy bolt action center fire rifle.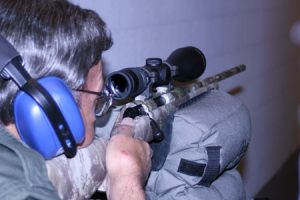 Thompson/Center's new turkey gun is an ergonomic, purpose-built 12 gauge shotgun.